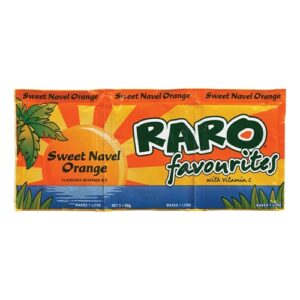 Raro Sweet Navel Orange Sachet 3pk 240g
In stock
The tropical fruity flavours of Raro have satisfied the thirst of kiwi kids for more than 45 years. Ripping open a sachet of Raro, pouring the powder into a container and adding cold water has been child's play for generations.
The tropical taste of Raro is produced by using the finest ingredients and highest quality standards. Each sachet makes about 1 litre of juice
Disclaimer
Products are subject to change and availability. Product information including ingredients, product origins, nutritional information and allergens is provided by our suppliers to assist customers to select suitable products. However, this information may change at short notice and you should always check the product labels before consuming any products. We endeavour to keep all information up to date, but we cannot and do not guarantee accuracy and completeness of this information.