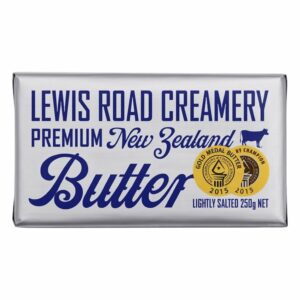 Lewis Road Creamery Premium Butter Lightly Salted 250g
In stock
Our Premium Lightly Salted Butter is blended to our specifications to better the best European butters. The secret to wonderful butter lies in our pure fresh cream, the culture, and the curing process.
Our Premium Lightly Salted has a velvety texture like no other. It is mouth-watering simply spread on toast or used in cooking and baking for a full-bodied buttery experience.
Disclaimer
Products are subject to change and availability. Product information including ingredients, product origins, nutritional information and allergens is provided by our suppliers to assist customers to select suitable products. However, this information may change at short notice and you should always check the product labels before consuming any products. We endeavour to keep all information up to date, but we cannot and do not guarantee accuracy and completeness of this information.
Manufactured in New Zealand from local ingredients