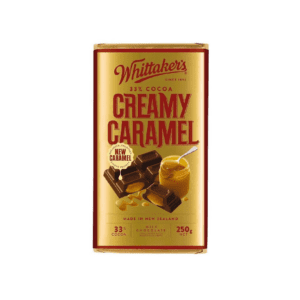 Whittakers Chocolate Block Creamy Caramel 250g
In stock
After years of tasting and tweaking, our new caramel filling is ready. It is more buttery and creamier with richer caramel notes and a soft velvety texture. Here it is perfectly paired with our 33% cocoa, five roll refined creamy milk chocolate.
Creamy milk chocolate with a hint of caramel in our generous 250g block.
Disclaimer
Products are subject to change and availability. Product information including ingredients, product origins, nutritional information and allergens is provided by our suppliers to assist customers to select suitable products. However, this information may change at short notice and you should always check the product labels before consuming any products. We endeavour to keep all information up to date, but we cannot and do not guarantee accuracy and completeness of this information.
To make great chocolate you need two things: the finest ingredients and the utmost passion. We're pleased to report that we have both. We lovingly oversee the creation of all our delicious chocolates from bean to bar. We source the world's finest cocoa beans and then batch roast them to perfection ourselves, right here in New Zealand.
This dedication creates a taste and texture that has made Whittaker's famous for quality since 1896.
New Caramel – Creamier, Smoother & More Velvety