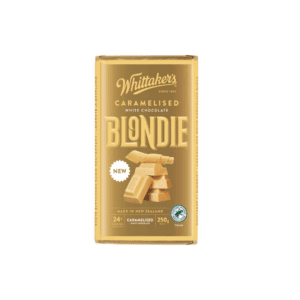 Whittakers Caramelised White Chocolate Blondie Block 250g
In stock
We've pushed all the boundaries with Blondie by Caramelising White Chocolate in the most authentic way. Absolutely no added flavours for us. We heat our sublime ingredients to the perfect high temperature, for a precise amount of time. The golden brown treasure that results is the most wonderful, natural blend of toasted caramel and milk flavours, with a sweet buttery brown finish. It's caramelised as it should be if it's Blondie. Good honest chocolate since 1896.
24% cocoa chocolate.
Disclaimer
Products are subject to change and availability. Product information including ingredients, product origins, nutritional information and allergens is provided by our suppliers to assist customers to select suitable products. However, this information may change at short notice and you should always check the product labels before consuming any products. We endeavour to keep all information up to date, but we cannot and do not guarantee accuracy and completeness of this information.
When our grandfather, J.H. Whittaker, started making chocolate he believed that best was always better. We're pleased to report that this hasn't changed. We insist on overseeing all our delicious creation from bean to bar. First we find the world's finest, ethically grown and sun-dried cocoa beans. Then we batch roast and refine them ourselves, right here in New Zealand. This dedication to texture and taste has made Whittaker's famous for quality since 1896.