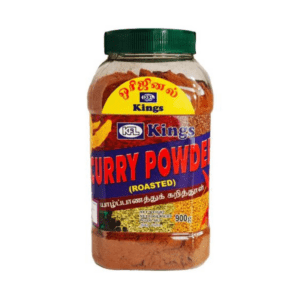 Kings Roasted Curry Powder Jaffna Style 900g
In stock
Kings' Curry Powder is the most popular curry powder among Sri Lankan. It is made from a decades-old, secret traditional recipe by a family-owned company in Sri Lanka – unchanged for over 30 years. Ingredients are hand-picked and blended together to create each batch. The mix of ingredients and the delicate roasting gives it a colourful aroma and texture to create an authentic Jaffna-style flavour.
Disclaimer
Products are subject to change and availability. Product information including ingredients, product origins, nutritional information and allergens is provided by our suppliers to assist customers to select suitable products. However, this information may change at short notice and you should always check the product labels before consuming any products. We endeavour to keep all information up to date, but we cannot and do not guarantee accuracy and completeness of this information.
Refrigerate after opening.