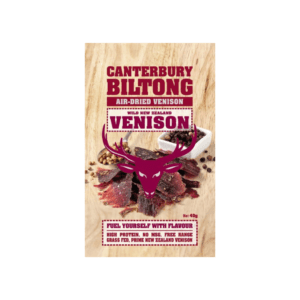 Canterbury Biltong (Jerky) Venison 40g
Out of stock
Get an alert when the product is in stock:
Developed using the spice and seasonings found on quality biltong throughout biltong's homeland, South Africa. Spices are mixed and toasted on site to ensure freshness and optimum flavour. Our Venison is farmed red deer from New Zealand.
Enjoy a healthy great tasting snack in a convenient size to take with you anywhere.
Disclaimer
Products are subject to change and availability. Product information including ingredients, product origins, nutritional information and allergens is provided by our suppliers to assist customers to select suitable products. However, this information may change at short notice and you should always check the product labels before consuming any products. We endeavour to keep all information up to date, but we cannot and do not guarantee accuracy and completeness of this information.
Store in a cool dry place. Once opened consume within 3 days.