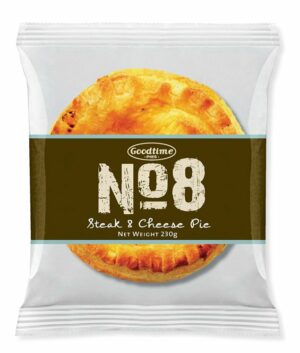 Best Before 30 Mar
Goodtime No 8 Pies Steak & Cheese 230g SALE
In stock
Goodtime steak and cheese pie, nothing gets better than this! Goodtime #8 are the traditional pie, no bells and whistles here, just a good ole Kiwi pie. Comes in a huge 230g size for the biggest appetites! Great quality at an awesome price!
To heat from frozen  – unwrapped:  Preheat fan-bake oven and tray to 160°(.  Rip off the packaging and chuck the pie into the oven for 50 mins.
To heat from frozen-wrapped:  Preheat fan–bake oven and tray to 160°(.  Chuck the pie, wrapper, and all into the oven and heat for 35 mins.
To heat from defrosted:  If you defrost your pie we recommend this is done overnight in the fridge. Preheat the fan-bake oven and tray to 160°(.  Chuck the pie wrapped or unwrapped into the oven for 20 mins.
To microwave from frozen: (not recommended as it goes a bit soggy but if you are absolutely starving) Preheat fan-bake oven and tray to 160°. Place the pie in the microwave and use defrost function to zap it for 30 secs. Heat the pie in the oven for 20 minutes until the pastry is nice and crispy. 

Keeping a feed on hand:  Keep your defrosted  pies in the fridge at  2°c to –4°c.  Once defrosted use within 4 days. Keep your pies in the freezer for ages at  –12°c to –18°c. 

Water, wheat flour, diced beef (18.0%), pastry fat (animal fat, vegetable oil, water, salt, emulsifier (471), emulsifier (322), acidity regulator (500), antioxidant (306), food acid (330), protein, flavourings (salt, sugar, hydrolysed vegetable 

| | | |
| --- | --- | --- |
| | Avg per Serving | Avg per 100g |
| Energy | 2316 | 1007 |
| Protein | 19.0 | 8.3 |
| Total Fat | 31.7 | 13.8 |
| – Saturated Fat | 17.9 | 7.8 |
| Total Carbohydrate | 46.0 | 20.0 |
| – Sugars | 0.8 | 0.4 |
| Sodium | 1035mg | 450mg |

Contains wheat flour, soy, dairy.
May contain traces of egg,  nuts, and seafood.
GM Free.
Disclaimer
Products are subject to change and availability. Product information including ingredients, product origins, nutritional information and allergens is provided by our suppliers to assist customers to select suitable products. However, this information may change at short notice and you should always check the product labels before consuming any products. We endeavour to keep all information up to date, but we cannot and do not guarantee accuracy and completeness of this information.