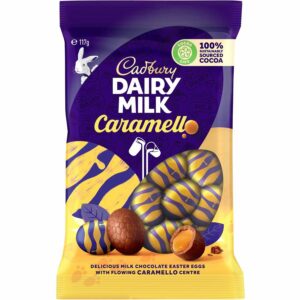 Cadbury Mini Easter Eggs Caramello Milk Chocolate 117g
In stock
Delicious milk chocolate Easter eggs with a Caramello filled centre.
Disclaimer
Products are subject to change and availability. Product information including ingredients, product origins, nutritional information and allergens is provided by our suppliers to assist customers to select suitable products. However, this information may change at short notice and you should always check the product labels before consuming any products. We endeavour to keep all information up to date, but we cannot and do not guarantee accuracy and completeness of this information.
Ingredients
Full Cream Milk, Sugar, Glucose Syrup, Cocoa Butter, Cocoa Mass, Milk Solids, Sweetened Condensed Milk (Milk, Sugar), Vegetable Fat, Invert Sugar, Emulsifiers (Soy Lecithin, 476, 471), Acidity Regulator (331), Flavours, Salt
* Milk chocolate contains cocoa solids 28%, milk solids minimum 24%.
Allergen
May contain traces of Peanuts and Tree Nuts. Contains Milk, Wheat Glucose Syrup and Soy.