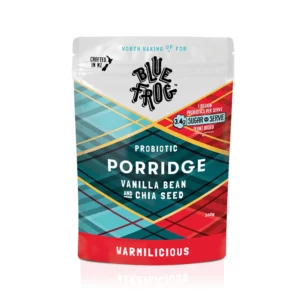 Blue Frog Probiotic Porridge Vanilla Bean & Chia 360g
In stock
Satisfying and delicious New Zealand baby oats are combined with the smooth velvety sweetness of Heilala Vanilla to create moreish breakfast goodness. Packed with our amazing cutting edge GanedenBC30 heat stable probiotic. Finalist in the New Zealand food awards? and,? highly commended in the Healthy Food magazine awards! ?
Disclaimer
Products are subject to change and availability. Product information including ingredients, product origins, nutritional information and allergens is provided by our suppliers to assist customers to select suitable products. However, this information may change at short notice and you should always check the product labels before consuming any products. We endeavour to keep all information up to date, but we cannot and do not guarantee accuracy and completeness of this information.
Blue Frog's porridge contains the super probiotic, GanedenBC30, which can survive and thrive in conditions many other probiotics cannot. GanedenBC30 is heat stable and only activates once reaching the ideal conditions in your gut.  With more than two billion live cells per serve, our porridge is the stuff of legends!
Vegan
No Refined Sugars
Natural & Organic Ingredients
Less than 4g sugar per serve
No Sulphites
Low Salt
No Added Dairy
Ready in a tick
Simmer for two minutes on the stovetop
Microwave for two minutes
Bircher style – soak for ten minutes or overnight